- walk to studio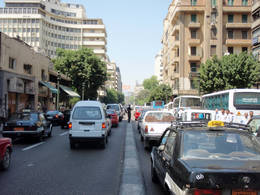 - work in studio
- Walk over the island towards Agricultural Museum. Nice sidewalk through vegetation at the left coast of Zamalek.
- ...by the time I arrive the Museum had closed. It closes very early at 15h.
- eat wine rolls at Filfela - how women eat with those coverings?
- propose to Edit to paint the floor in the studio
- drinking waters bottled by Pepsi, Coca-Cola, Nestle and Schwepps.
- Banks, gas-stations and schools are called - MISR. Getting intrigued about what kind of mega-corporation is that I try to Google it - found nothing. Than somebody tells me this is actually Egyptian word for Egypt itself also used to refer to the city of Cairo.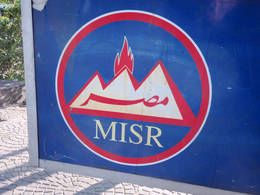 - the same case with plastic bags as in India and Novi Sad. They are flying all around but no waste pickers collecting them for recycling. I start to collect them aside. Maybe make another Cairo model of the crochet plastic bag.
- meet with Sayonara - Arabic tutor / She explains how all the prices two weeks ago raised 30% due to the price of petrol, that went up. All was followed with a chaos on the streets and demonstrations. This was an excuse to charge me more for Arabic classes than what I was told initially. We discuss if I should start with fosha or ameya. Fosha is classical Arabic used as written language, in newspapers, TV, etc. It is universal standard Arabic used in all Arab countries. The problem is that nobody speaks it. Ameya is colloquial Egyptian non written language. Finally I decide for Ameya.
- red phone at the apartment won't ring - remembering the Sophie Calles book 'Exquisite Pain' that my ex-boyfriend gave me when we broke up.