- wake up, tide up the flat

- go lab

- studio work

- crochet while uploading - -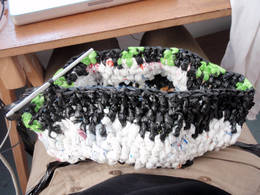 - go make visit card / will be finish on thuersday
- reserve flight greece
- peter will bring italian wine and watercolours.
- receive mail from Toni about doing solar system models in the city scale - i was just two days ago thinking of it.
-
-
-
- practice balance walking backwards while cars are passing both ways in the middle of Alaini Street
- Leaving the studio late. There is a door open on the ground floor. A woman enclosed is living there. Very bad smell is extending trough the building. I see her sometimes looking trough the window. She is middle age with very short cut grey hair, fat, and people say she is crazy. This time somebody was visiting her, some familiar who was taking care of her. When I go out I close the entering door with a massive chain as usual. But behind me I hear very loud and angry shouting. She shows up on the window of the closed door shouting something in arabic. Strange feeling pass trough my body. Than the man shows up on another window and says - Could you open the door? We will close it later. I excuse myself and oppen the door.
- 20h arabic lesson / lots of new words / im kind of staring to speak
- go home - have a glass of wine with my mother / talk about family and do crochet - run out of plastic bags
Work at studio:
- living outside
- play lines