- get up early have a coffe with Peter and go in front of CIC - Said is waiting for us already in his car to go to Ain Sokhna

- Ain Sokhna is not a city - We are driving by the coast passing by beautiful empty beaches and huge wired constructions completely empty. There are only workers occasionaly who are taking refreshment in the sea. They seem to be living in improvised tents.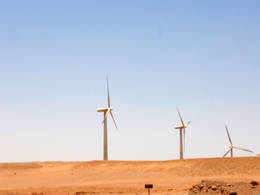 -
-
- have a lunch in Zafrana Motel on the road junction at Zafrana and decide to go to St. Pauls Monastery. We are said the monastery is built over the cave where St. Paul spent 90 years.
- three beduin women in their black festive clothes with modest decorations entering the church. One of them is carryng a baby. Following the oldest woman they are loudly kissing all the images of St Paul they can see. They are asking for a blessing from Father Thomas. After them we receve the blessing too. Father Thomas explains us after that despite beduins are muslims they honour St. Paul as a saint because he was living in the desert.
- We go to see the spring. Spring water that comes from the mountain is carefully chanelled and used for people and watering plants in the community. Father Thomas washes my head with the spring water and he calls me Fatima all the time.
- Peter talks to Father Thomas about use they could make of solar panels and proposes himself to make the calculations for them. Father Thomas is very interested. He shows us the rest of the monastery, gives us bread they are making and invites us for the tea. We are receiving very special treatment. Father Thomas is not using internet and mobile phone so we will have to comunicate with letters.
- Both Father Isac, Father Benjamin that we had met before so as Father Thomas are looking at you with thir wide open eyes, smiling so you have to smile also, i dont know why.
-
- on the way back we lots of kites over the sea. We make a stop at the seaside and enter the resort. We have to pass the reception in the incredible huge hall. Its all empty. Recepcionist wants to charge us 50EP each for using their beach. We say we just want to take a look. Long way trough the huge completely empty holiday complex with a guy who is following us. On the beach there is a group of germans doing kite surfing. Me meet an instructor Mohamed, he is very nice guy and tells us we could have a swim. Water is beutiful or I was never feeling so anxious about swimming in my life. Well it is one of most beutiful beaches and waters i ever visited. Thinking about monks - before 73 and the war with Israel this was militariezad zone so only monks had a permission to go to the sea. Now the acces is closed with the resorts.
-
- on the way back to Cairo we are passing trough huge suburb area built in agricultural fields. Houses are all unfinished blocks built in a modular way out of bricks. Just some of the balconies are painted but in very bright colours. Its called Maroteya.
- our driver Said is so nice - he always says money is not a problem - but we always give him more than he was expecting. he lives us at Falaki square. we go for a beer at Horreya.
- dinner at the flat - peter is cooking a risoto - and italian wine. Stay until late talking.
-
-